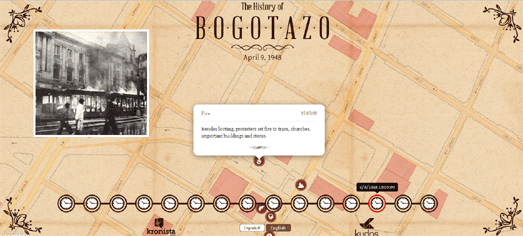 El 9 de abril de 1948 en el centro de Bogotá fue escenario de un caos de violencia a causa del asesinato del líder político Jorge Eliécer Gaitán. Los disturbios y revueltas destruyeron algunos espacios y edificios representativos y transformaron la memoria urbana de la ciudad, y el país, para siempre. El Mapa La Historia del Bogotazo nos cuenta de forma interactiva los hechos sucedidos en aquella fecha.
Traemos de nuevo este mapa dada la buena recepción que ha tenido en el blog Maps Mania :
*The Mapped History of Bogotazo
The Mapped History of Bogotazo is a story map which recounts the assassination of Gaitán and the resulting uprising in Bogotá. The impressive visual aesthetic of this map is created through the use of custom vintage style map tiles, a careful attention to detail in the map markers & timeline icons and in the decorative corner images.
*The Maps of the Week - Sunday, September 14, 2014
@dersteppen Love the map. I thought you were going to win one of the FOSS4G awards :( - Shame they don't have a best History Map category.

— Keir Clarke (@KeirClarke) September 15, 2014